Lunch
Being a Sunday lunch we bought a baguette and had it with a variety of toppings: liverwurst; mayo, egg and pickled onion; and cheddar and sauerkraut pickle.
The baguette was $2.69 and we had about 1/4 each for lunch, or 67c per serve
The liverwurst was $3.23 and we had about 1/4 each for lunch, or 81c per serve
Irish cheddar is $3.69 for a 6 oz block, and we had about 1 oz each, or 46c per serve
We had an egg each at 50c per serve
The Australian/English style pickled onion – onions in a sweet vinegar pickle – cost $5.09 per jar and we used about half for lunch, or $1.28 per serve.
Lunch today was $3.72. It's clearly time to make our own pickled onions!
Dinner
The semiSerious Foodies have a new stovetop smoker, and the first thing smoked was some cod, because it's impossible to get smoked cod otherwise.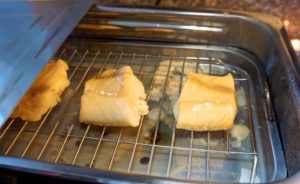 The cod would normally be cooked in the kedgeree along with the rice, but we did a somewhat deconstructed version.
We buy the cod filets frozen: 7 pieces for $11.99 or $1.71 per piece. One of us had two, the other only one, so the average serve price was $2.57
Rice and peas add 65c per serve
An onion is 28c or 14c per serve
The tomato cost $1.02 or 51c per serve
A pint of half-n-half is $1.99 and half was used, or 50c per serve
Other ingredients add another 32c per serve.
Dinner tonight cost $4.69 per serve. The smoked cod was very good, with a more subtle smoke than commercially smoked fish. Now on to smoking pork chops!